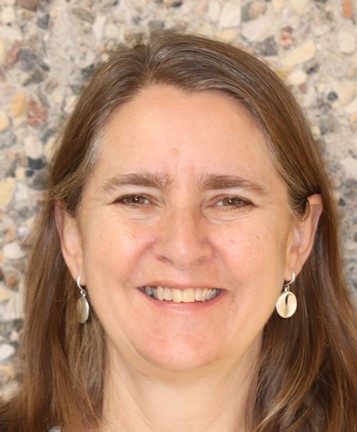 Becca Whitla is the Professor of Practical Ministry and the Dr. Lydia E. Gruchy Chair in Pastoral Theology at St. Andrew's College in the Saskatoon Theological Union in Saskatoon, Saskatchewan where she teaches worship and liturgy, preaching, religious education, and practical theology. She has more than 20 years of experience animating liturgy and community singing in multiple contexts. Through her work she aims to foster transformative leadership. In her teaching and scholarship she focuses on how liturgy, community singing, ministry, and community activism can embody a liberating praxis that nourishes and affirms fuller expressions of complex cultural identities. She celebrates and fosters diverse multicultural, multilingual, and multi-ethnic communities. She believes in equipping churches and church leaders to model and shape diversity and inclusion in our present social climate
Her book Liberation, (De)Coloniality, and Liturgical Practices: Flipping the Song Bird was released in 2021 (Palgrave McMillan). From her White Euro-Canadian settler perspective, she examines ways to liberate, and decolonize, liturgical practices, especially community singing. She worked in Toronto for many years as a music director in both Anglican and United Churches, as a community choir direct and in the trade union movement developing leadership through choral singing, especially with the Hotel Employees and Restaurant Employees (H.E.R.E.) Union Local 75 Choir.
Becca believes that that music is a crucial, vibrant and healing part of community life and that everyone's voice deserves to be heard. She is conductor emerita of the 70-voice Echo Women's Choir which she co-founded in 1991. Echo is dedicated to building a strong, varied and vibrant culture through singing music from various folk traditions, by contemporary Canadian composers and by women composers and celebrates diversity in its music and members. Becca was also music director at the Church of the Holy Trinity in downtown Toronto for twenty years where she led the community's music-making with her singing; by playing the organ, piano, trumpet and kanjira; and by leading the choir. In 2008, she spearheaded the acquisition of the Deer Park Casavant organ, a mechanical action (tracker) instrument, one of the finest in the city. Becca was also is the Director of Chapel at Emmanuel College in the University of Toronto and worked as a freelance choral and workshop leader, coach, consultant and accompanist and has learned and taught village music of many different harmonic traditions from around the world.
Other milestones in her past include: founding member of the Toronto Georgian folk choir Darbazi and the Georgian women's quartet Aisi; one of the founders of the WorldSongs Vocal Camp; teacher for Village Harmony summer singing camps in Vermont and for the Yeoman's Fund for the Arts in New Hampshire; key organizer of the Canadian tour of South Africa's Polokwane Choral Society (in June 2004); member of the Music Committee of the Toronto Arts Council (2004-2006); and Music Coach and Consultant for Theatre Gargantua who were awarded a Dora for music in 1997 during her tenure. She studied at Toronto's Royal Conservatory of Music (ARCT, 1986) York University (BFA, 1990), with the Royal Canadian College of Organists (CRRCO 2002). Her recordings include: Complex Identities in a Shifting World—Musical Expressions (Emmanuel College, U of T); I Still Have Joy: H.E.R.E .[Hotel Employees and Restaurant Employees] Local 75 Choir; Gonna Sing and Shout: Echo Women's Choir 10th Anniversary; and Parlour Songs and Heart Songs with Alan Gasser, tenor.
Education/Degrees
BFA (Hons, Music and Humanities), York University (1991)
MMus (Sacred Music) Emmanuel College, University of Toronto (2013)
PhD (Pastoral Studies), University of St. Michael's College, administered by Emmanuel College of Victoria University, University of Toronto (2019)
Research and Teaching Interests: Liturgy/Worship, Congregational and Community Singing, Liturgical and Liberationist Theologies, Postcolonial and Decolonial Theories, Choral Conducting
Professional Background
Professor of Practical Ministry, St. Andrew's College, Saskatoon, Saskatchewan (2019-present).
Emmanuel College, University of Toronto: Director of Chapel, Director of Toronto School of Theology Choir, Research Fellow for Professor Lim Swee Hong (2012-2019).
Seminario Evangélico de Teología de Matanzas, Cuba, Adjunct Faculty (2016).
Echo Women's Choir, Toronto, Co-Founder, Artistic Co-director (1991-2019).
Church of the Holy Trinity, Toronto, Music Director (1992-2012).
Hotel Employees and Restaurant Employees (H.E.R.E.) Local 75 Choir, Toronto, Founding Director (1999-2004).
Liturgical and Music Leadership in a wide variety of national and international community and church groups and organizations, including Sorrento Centre, Momentum (Anglican), KAIROS, PWRDF, Worldsongs Vocal Camp; CAW/UNIFOR, CUPE, Village Harmony.
Secretary, Hymn Society of the United States and Canada (2017-present).
Member of the Hymn Supplement Committee of the Anglican Church of Canada (2011-2019)
Memberships: International Academy of Practical Theology, Canadian Theological Society, American Academy of Religion, Society for Christian Scholarship in Music, Hymn Society of the United States and Canada.